Pietermaritzburg, the capital city of KwaZulu-Natal, boasts in hosting two annual internationally recognised events, both linking the City to Durban. The first is the famous Comrades Marathon and the second is the Duzi Canoe Marathon, which starts on 15 February 2018 and finishes at the Blue Lagoon in Durban on 17 February.
The history of the race is littered with legends. The idea of racing down the uMsundusi and uMngeni Rivers was born during World War II when Ian Player, while in Italy, came up with the idea of a race downriver from Pietermaritzburg to Durban.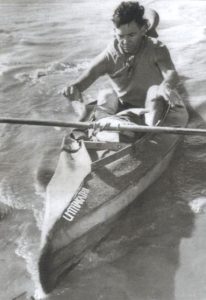 This dream was finally realised when on 22 December 1951, eight paddlers set off from Pietermaritzburg. Six days, 8 hours and 15 minute later Ian Player (pictured) was the only paddler to finish, having survived two days of low rivers and then a flash flood and finally a night adder bite. When Player arrived in Durban he undisputedly became the first person to "do the Duzi".
Over the past 67 years, there is none more a legend than Graeme Pope-Ellis. He became known as the Duzi King [Pope]. He achieved the 1st of his 15 victories in 1972. He paddled in 46 consecutive marathons before his untimely and tragic death in 2010.
In 1981, female and black paddlers were allowed to compete legally for the first time. Simon Mkhize became the first black paddler to finish the Dusi and Daphne Hawarden paddling with her husband in a mixed double was the first woman to finish.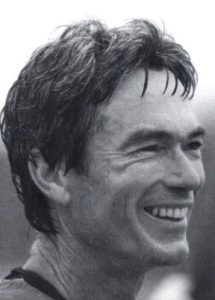 Martin Dreyer proved to be the dominant personality of the new Millennium. After a number of wins in the early 2000s, he, in 2008, he paved the way for another slice of Dusi history when he partnered Valley of a Thousand Hills raised Michael Mbanjwa to become the first black paddler to win the race. Dreyer won seven Dusi titles but now mentors Valley youngsters through his Change-A-Life programme.