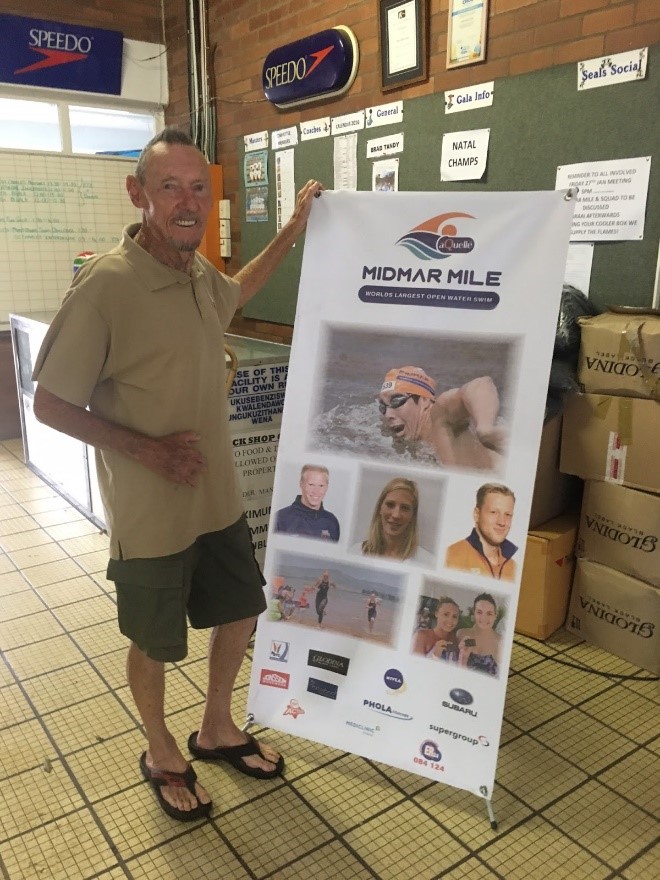 Mike Arbuthnot has gone 44 from 44. The 86-year-old completed, in 2017, his 44th Midmar Mile out of the 44 editions held.
That kind of consistency and dedication is unparalleled in the open water swimming world. He has done a total of over 80 swims across the Midmar Dam and keeps training and maintaining his healthy lifestyle. For his original vision in creating the Midmar Mile, for this decades-long commitment to support the event in every and any means possible, and for his continued wellness that serves as an inspiration to those in the younger generations, Arbuthnot's 42nd consecutive Midmar Mile swim is a worthy nominee for the 2015 World Open Water Swimming Performance of the Year.
Year in and year out since 1973, he has participated in the mile swim across the Midmar Dam. He and his buddies, Dick Park and Brian Glover, were unable to compete in the Buffalo Mile in East London because of petrol restrictions and decided to stage a race in KwaZulu-Natal. And so his legacy began.
This is a story of which legends are made.  A remarkable man, who is so unassuming, that one would not know when meeting him what he has achieved.
The Midmar Mile is a swimming race held annually in February outside Pietermartizburg.  Each year, it draws thousands of competitors, from serious international athletes to purely recreational swimmers.
In 2009 the event, in which 13 755 competitors finished the race, was recognised by the Guinness Book of World Records as the world's largest open water swimming event.
A unique feature of the race is that while the distance covered is always a mile, depending on rainfall and the water levels in the dam, the distance swum varies from year to year. In years with poor rainfall, competitors are subject to the infamous Midmar sprint start: a bedlam of bodies sprinting across the muddy lake-shore and through the shallows until the water is deep enough to swim.